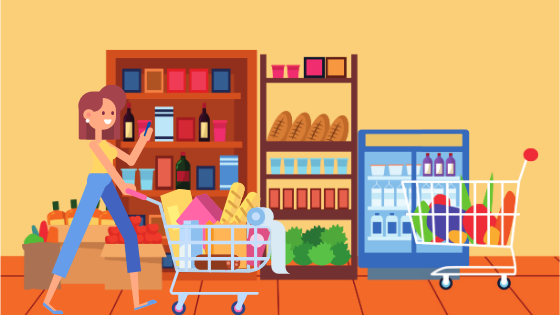 These statements have not been evaluated by the Food and Drug Administration. This artcle is not intended to diagnose, treat, cure, or prevent any disease. Always consult with a qualified healthcare professional prior to beginning any diet or exercise program or taking any dietary supplement. The content on our website is for informational and educational purposes only.
Written By: Jessianna Saville MS, RDN, LD, CSR
Grocery shopping can be a harrowing experience when you're working within a renal diet. Even with so many choices, sometimes it can feel like there is nothing to choose. How do you know what to avoid. Watch out for these THREE Top ingredients kidney patients should avoid and you should be fine
P-H-O-S. Anything with an ingredient that has "phos" in it. For example, if you pick up a bottle of Coca Cola it will have phosphoric acid in it. This is called a phosphate additive. The reason your doctor and dietitian advised you against dark colas is because of the phosphorus additive. Guess, what? Other foods have it too. It can be in almond milk brands, cold cereal, tortillas, instant lemonade, gelatin mixes, and many more. Just check the ingredients to be sure.
Garlic SALT. Celery SALT. Salty seasoning mixes (like Old Bay). Instead of using garlic salt, celery salt or any salt herb blend in cooking, use garlic POWDER, or no-salt seasoning mixes (example Mrs. Dash).
BHT. This commonly added preservative can be tough on the kidneys. Watch the ingredients in prepackaged foods carefully and choose ones without BHT and preferably a lower sodium content. When you see BHT in the ingredients you can almost always guarantee it something loaded with salt as well.
Other than this there are an enormous amount of foods you can enjoy. Probably many of your favorites! A general rule of thumb is to choose foods with minimal processing and the smallest amount of ingredients. Whole grains are fantastic for most people with kidney disease. Yes, even better than their white counterparts. Fresh or frozen fruits and vegetables hold a lot of nutrition power as well.
Sometimes these ingredients can hide behind other names. Use the below image when you are shopping to help you identify other names for the top 3 ingredients kidney patients should avoid.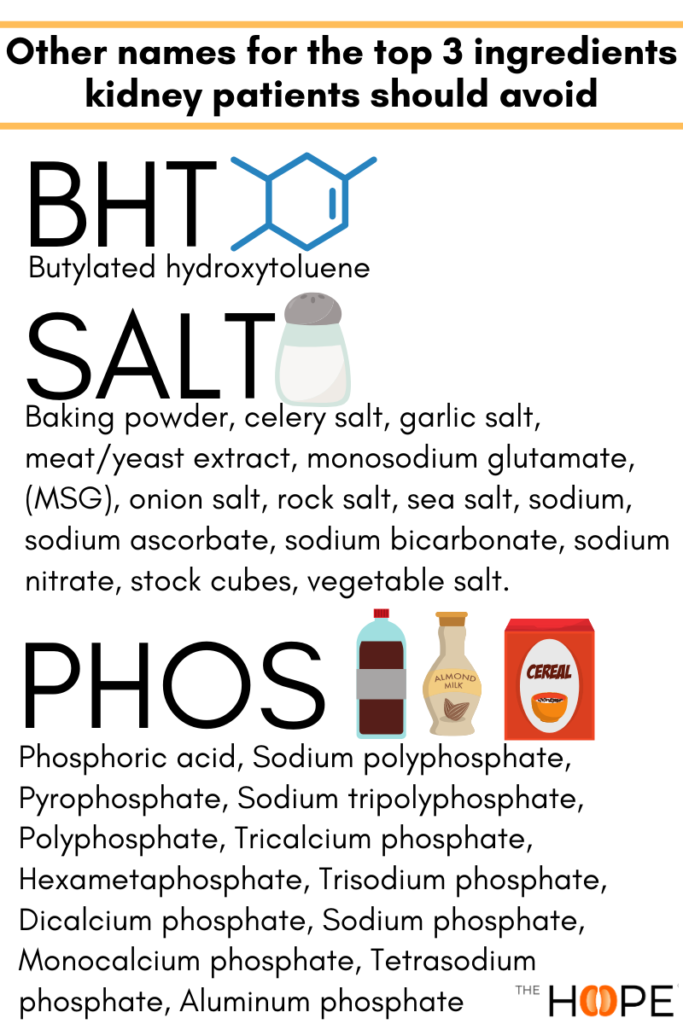 If you feel discouraged by walking in the grocery store, make sure and reach out to a renal dietitian for education and support.
Jessianna Saville MS, RDN, LD, CSR is a renal nutrition specialist who sees clients privately in her practice at KidneyRD.com
Going food shopping soon? Take a look at these recipes and use the above information to help you make smart choices!
About the author: Jessianna Saville MS, RDN, LD, CSR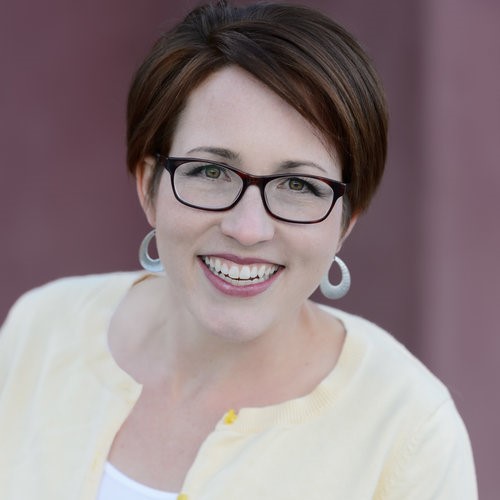 Sponsored by: Kibow BiotechⓇ