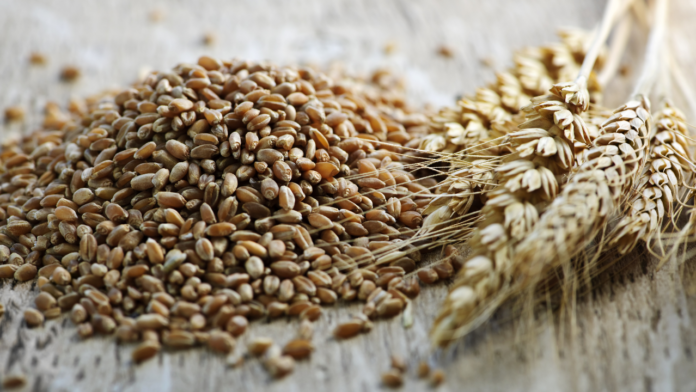 Kellsey Reed RDN, LDN
Whole grains have been a controversial topic in the kidney world. Many websites and blogs will tell you that whole grains are completely off-limits. The truth is, whole grains should be included and encouraged in a kidney-friendly diet due to their benefits for those with chronic kidney disease.
All about whole grains, CKD, and gut health
Whole grains are grain foods that contain the whole grain kernel. The entire grain kernel provides vitamins, minerals, and fiber. Fiber is important for not just overall health but for gut health and kidney health, too.
Fiber has been shown to help manage cholesterol levels, weight, bowel and gut health, and diabetes. Plus, it can help you lower your risk of stroke and heart disease. Studies show that getting adequate fiber in a kidney-friendly diet can help reduce nitrogenous waste products, which can help slow the progression of chronic kidney disease. The recommended amount of fiber per day is 25 grams/day for women and 38 grams/day for men.
Whole grains vs. refined grains
Refined grains are grains like white bread, white rice, and white pasta. These grains have had part of their grain kernel removed, which improves texture and shelf life, but in turn, it decreases their nutrition. Fiber is often one of the biggest nutrients that is removed from these refined grains.
Refined grains are often encouraged for those with CKD due to the fact that they are said to be lower in phosphorus and potassium. It's important to discuss the fact that many people with CKD do not need to limit their potassium intake. If you do need to limit your potassium intake, it's important to keep track of how much potassium you are consuming each day and be mindful of your portion size so that you can stick to your potassium goals. Studies also show that the bioavailability of phosphorus from plant-based foods, like whole grains, is low, and therefore, these foods are not considered high phosphorus foods. Added sources of phosphorus from ultra-processed foods are considered higher sources of phosphorus and should be limited, not phosphorus from whole grains.
Whole grain options for CKD and gut health
The American Heart Association recommends that people make half of their grain consumption each day whole grains. One serving of whole grains might look like one slice of whole grain bread, ½ cup cooked oatmeal, or 3 cups low sodium popcorn. Some great whole-grain options for those with CKD are:
Quinoa
Brown rice
Oats
Corn
Wild rice
Popcorn
Kamut
Millet
Buckwheat
Whole wheat flour
Whole grain bread
Whole grain pasta
Kidney-friendly whole grain stuffing recipe
The holidays are just around the corner, and what better way to enjoy more whole grains than with whole grain stuffing!
Ingredients:
5 slices whole grain bread (I like Pepperidge Farm's 100% whole wheat bread)
2 tbsp olive oil or avocado oil
4 garlic cloves, minced
1 cup carrots, diced
1 cup celery, diced
1 cup onions, diced
1 cup mushrooms, diced
2 tbsp sherry cooking wine
1 tbsp dried parsley
1 tsp black pepper, garlic powder, thyme
½ tsp nutmeg, rosemary, sage
¼ cup low-sodium vegetable broth
Directions:
Preheat the oven to 375 degrees F. While the oven is preheating, saute your onions, celery, and carrots in the garlic and olive oil for about 10 minutes or until they are softened and aromatic.
While the vegetables are cooking, slice your bread into 1 inch cubes.
Next, add all of the spices, seasonings, broth and cooking wine to the vegetable mixture and mix well. Carefully stir in the bread cubes and mix well.
Pour the mixture into an oven safe pan and bake for 20-25 minutes or until the top is slightly browned and crispy. Enjoy!
Nutrition Information: –
Makes 4 1-cup servings
282 Calories
9 grams protein
240 milligrams sodium
475 milligrams potassium
~25 milligrams phosphorus
8 grams fiber
References:
---
About the Author
Kellsey Reed is a kidney dietitian. She helps people with CKD learn to eat the foods they love so they can improve their kidney health and live their best lives with CKD. As a registered dietitian who specializes in chronic kidney disease, she has been through extensive training to give you the best support and guidance possible. In her career, she's seen the lack of support given to those with CKD and is on a mission to change that.
"I don't believe in just giving you a one-page handout that says "eat this" and "don't eat that". I don't believe in telling you to stop going out to eat! I don't believe in having you cut out all the foods you love in order to manage your CKD! I believe in giving you all of the tools, resources, and support that you need to eat for your CKD with 100% confidence! I believe in helping you learn how to travel, go out to eat at your favorite restaurants, have a date night with your spouse, and celebrate holidays and birthdays with your family without stress, anxiety, or confusion!"
If you're interested in learning more about Kellsey's coaching program or the free resources she offers, go to her website: ckdnutrition.com. You can also follow along on Instagram or TikTok at: @ckd.nutrition.coach!