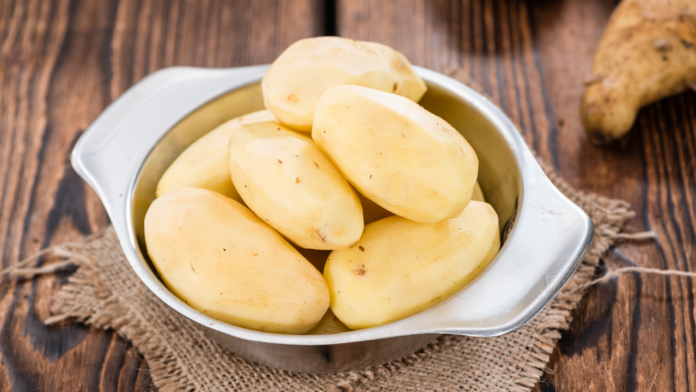 Kellsey Reed RDN, LDN 
French fries, baked potatoes, mashed potatoes, breakfast potatoes. There are endless possibilities when it comes to potatoes. Potatoes are considered starchy vegetables and are widely used in today's American diet. But are they kidney-friendly? Let's take a deep dive into potatoes to see if they are a kidney-friendly option.
Nutrition Information
Potatoes are rich in fiber, potassium, and iron. Fiber has been shown to be so important for our overall health as well as our gut and kidney health. Studies show that our gut health is linked to our kidney health because gut-derived uremic toxins are associated with the progression of CKD, cardiovascular disease, and mortality. When you have CKD, toxins and waste products can build up in the body and become harmful. This buildup can result in further progression of CKD.
Increasing your fiber intake and focusing on good gut health with CKD can help to:
Reduce the amount of toxins and waste products in the body & therefore help to slow the progression of CKD.
Keep your bowel movements regular, especially if you are used to experiencing constipation.
Protect your heart health and better manage your blood sugars, which can have a profound effect on overall kidney health.
If you are protecting your gut health, then you can help protect your kidney health in turn. Potatoes are rich in potassium, but that doesn't mean they are off-limits for CKD. Be sure to keep in mind your individual potassium needs when it comes to consuming potatoes. Because of these health benefits and the nutrition profile of potatoes, they are a kidney and gut-friendly food option for those with CKD. For a full look at the nutrition information for potatoes, see below.
Nutrition in 1 medium potato:
164 calories
4.4 gm protein
37 gm carbohydrates
4.5 gm fiber
1.72 mg iron
905 mg potassium
13 mg sodium
Should you avoid potatoes if you have CKD?
On most CKD-related websites, you will find that potatoes are said to be completely off-limits for those with chronic kidney disease. Why is this? It's because potatoes are rich in potassium.
One important note to keep in mind is that not everyone with CKD needs to limit potassium. Also, it is possible to reduce the potassium in potatoes by 50-75%, so that even those following a low potassium diet can enjoy them. So, if you have CKD and love potatoes, you don't need to 100% avoid them. Instead, try the double boil method. If you don't need to follow a low-potassium diet for your CKD, you can likely enjoy potatoes without double boiling them first.
How to reduce the potassium in potatoes
The double boil method is used to reduce potassium in potatoes by 50-75%. Double boiling your potatoes is so easy to do and only takes about 20 minutes or so. First, you will fill your pot with enough water to cover all of your potatoes. Then, you will boil the water. While your water is getting to a boil, peel and cut your potatoes into your desired shape. Once the water is boiling, boil the potatoes for 5-10 minutes. After 5-10 minutes, drain the water, add new water to the pot, and boil the potatoes again for another 5-10 minutes. After the potatoes have been double-boiled, prepare them however you like. To see a visual about double-boiling potatoes, check out this video. 
French Fries Recipe
Ingredients:
-1 medium gold potato
-1/2 tbsp avocado or olive oil
-1/4 tsp black pepper
-Pinch of salt
Directions:
Wash and peel potatoes and cut them into fries. 
Double-boil your potatoes if you are following a low-potassium diet. If you are not following a low-potassium diet, skip to step 3. Boil your potatoes for 5-10 minutes and then rinse with water. Boil potatoes again for 5-10 minutes with new water. 
Toss potatoes with oil, salt, and pepper and cook in the air fryer for 10 minutes at 400 degrees F.
Enjoy!
Nutrition:
172 calories
3 gm protein
400-600 mg potassium
155 mg sodium
2 gm fiber
*Please note: Everyone with CKD has different nutrient needs. Please work with your healthcare team and renal dietitian before making any changes to your diet and/or supplements.
The Bottom Line
Potatoes can be enjoyed on a kidney-friendly diet. They are rich in fiber and prebiotics and are a good source of carbohydrates. If you are following a low-potassium diet for your CKD, try using the double boil method to reduce the potassium content in your potatoes.
References:
---
About the Author
Kellsey Reed is a kidney dietitian. She helps people with CKD learn to eat the foods they love so they can improve their kidney health and live their best lives with CKD. As a registered dietitian who specializes in chronic kidney disease, she has been through extensive training to give you the best support and guidance possible. In her career, she's seen the lack of support given to those with CKD and is on a mission to change that.
"I don't believe in just giving you a one-page handout that says "eat this" and "don't eat that". I don't believe in telling you to stop going out to eat! I don't believe in having you cut out all the foods you love in order to manage your CKD! I believe in giving you all of the tools, resources, and support that you need to eat for your CKD with 100% confidence! I believe in helping you learn how to travel, go out to eat at your favorite restaurants, have a date night with your spouse, and celebrate holidays and birthdays with your family without stress, anxiety, or confusion!"
If you're interested in learning more about Kellsey's coaching program or the free resources she offers, go to her website: ckdnutrition.com. You can also follow along on Instagram or TikTok at: @ckd.nutrition.coach!