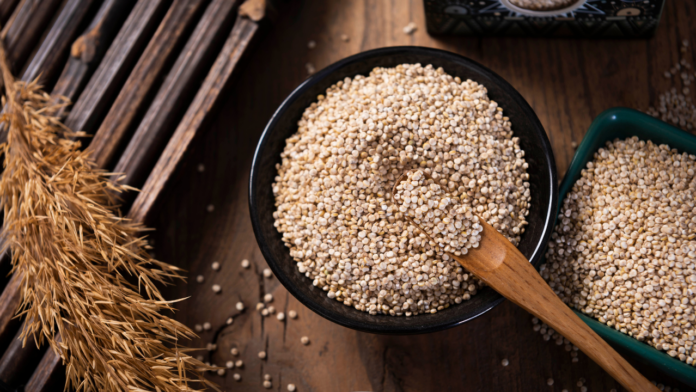 Kellsey Reed RDN, LDN
Quinoa, pronounced KEEN-wah, is a whole grain that is versatile and delicious. It is a part of the amaranth family, and what we eat is actually the edible seeds. Quinoa is rich in fiber, plant-based protein, and other vitamins and minerals. But is it kidney-friendly? Let's take a deep dive into quinoa to see if it's a kidney-friendly option.
Nutrition Information
Quinoa, although tricky to pronounce, is a nutrient-packed food. It is a naturally low-fat, moderate protein, high-fiber, and low-sodium food. Quinoa also contains quercetin and soluble fiber, which have been shown to have a beneficial synergistic effect on the body (1). Because of these health benefits and the nutrition profile of quinoa, they are a kidney and gut-friendly food option for those with CKD. For a full look at the nutrition information for quinoa, see below.
Nutrition in 1 cup of cooked quinoa:
222 calories
8 gm protein
3.5 gm fat
39 gm carbohydrates
5 gm fiber
2.76 mg iron
318 mg potassium
13 mg sodium
How to cook Quinoa
Cooking quinoa only takes two ingredients: quinoa and water. According to Simply Quinoa, you will first boil the quinoa and the water, then simmer for 8-12 minutes, let it rest for 5 minutes off the heat, and then fluff with a fork. You can also cook quinoa in a rice cooker or slow cooker too. Overall, quinoa typically takes about 20 minutes to make. This makes it an easy option for a simple meal idea!
Asparagus Avocado Quinoa Recipe
Ingredients:
1 cup cooked quinoa
2 cloves garlic
1/2 cup asparagus
½ cup onions
¼ avocado
1-2 tbsp olive oil
⅛ tsp salt and ½ tsp black pepper
Directions:
Cook quinoa according to package.
While quinoa is cooking, saute asparagus and onion in pan on medium heat. Cook until slightly browned and softened. Add garlic cloves during the last minute of cooking.
Add onions and asparagus to cooked quinoa and stir in salt and pepper. Mix well.
Top with avocado and enjoy.
Nutrition:
465 calories
12 gm protein
850 mg potassium
320 mg sodium
11 gm fiber
*Please note: Everyone with CKD has different nutrient needs. Please work with your healthcare team and renal dietitian before making any changes to your diet and/or supplements.
The bottom line
Quinoa is a kidney-friendly grain option that can totally fit into a kidney-friendly diet! Not only is it kidney-friendly, but it's gut-friendly too, due to its fiber content. Quinoa contains protein, so if you follow a low-protein diet, it's helpful to be mindful of your portion size.
References:
---
About the Author
Kellsey Reed is a kidney dietitian. She helps people with CKD learn to eat the foods they love so they can improve their kidney health and live their best lives with CKD. As a registered dietitian who specializes in chronic kidney disease, she has been through extensive training to give you the best support and guidance possible. In her career, she's seen the lack of support given to those with CKD and is on a mission to change that.
"I don't believe in just giving you a one-page handout that says "eat this" and "don't eat that". I don't believe in telling you to stop going out to eat! I don't believe in having you cut out all the foods you love in order to manage your CKD! I believe in giving you all of the tools, resources, and support that you need to eat for your CKD with 100% confidence! I believe in helping you learn how to travel, go out to eat at your favorite restaurants, have a date night with your spouse, and celebrate holidays and birthdays with your family without stress, anxiety, or confusion!"
If you're interested in learning more about Kellsey's coaching program or the free resources she offers, go to her website: ckdnutrition.com. You can also follow along on Instagram or TikTok at: @ckd.nutrition.coach!