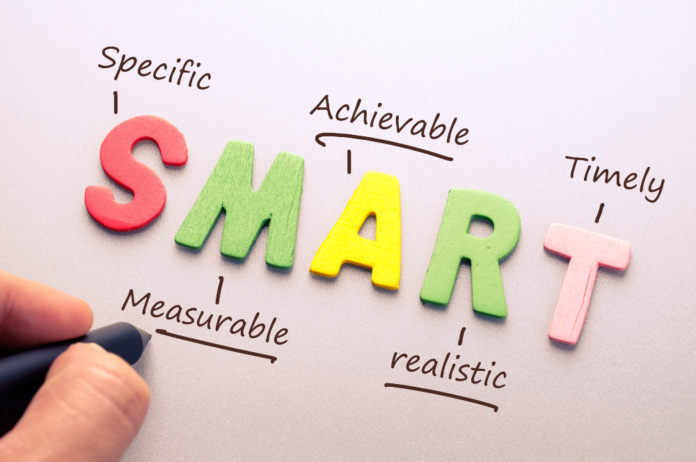 Sponsored by: Renadyl™
Kellsey Reed RDN, LDN
With the new year quickly approaching, you might be thinking of a new year's resolution or goal to accomplish in the coming year. If you're thinking about focusing on a kidney health goal, it might be time to focus on your gut health. Setting a "smart" goal can help you reach your kidney health goals, like protecting your gut health, in a more efficient and timely manner.
Setting goals with CKD
When it comes to managing your CKD in a healthy way, setting goals is key. Why is this? Because setting goals can help you achieve a more optimal level of health! Managing blood pressure, blood sugars, and gut health can be crucial for improving your kidney health. Consider setting goals focused on these areas first. Before you set a million and one goals for your CKD, remember that slow and steady is the best way to go. Start with one goal at a time! This can help keep you on track with your goals.
Setting SMART goals
Setting SMART goals is ideal when you have chronic kidney disease. SMART goals are Specific, Measurable, Attainable, Realistic, and Timely. SMART goals differ from typical goals because they can really set you up to be more successful. An example of a typical goal may be: "I want to improve my gut health," whereas a SMART goal would be: "I want to manage my CKD in a healthy way and see my creatinine and BUN levels stay stable or decrease in the next 6 months. I can do this by eating a kidney-friendly diet and protecting my gut. I will eat foods that are lower in sodium and rich in pre/probiotics, and I will take probiotics." SMART goals help keep us on track with our health goals and help us achieve them in a timely manner.
How can you set SMART goals to help protect your gut?
Managing gut health when you have CKD is essential. Studies show that our gut health is linked to our kidney health because gut-derived uremic toxins are associated with the progression of CKD, cardiovascular disease, and mortality (2). When you have CKD, toxins and waste products can build up in the body and become harmful. This buildup can result in further progression of CKD. Focusing on good gut health can help to reduce the amount of toxins and waste products in the body & therefore help to slow the progression of CKD. It can also help keep your bowel movements regular, especially if you are used to experiencing constipation. If you are protecting your gut health, then you can help protect your kidney health in turn.
Protecting our gut health with CKD can seem overwhelming, but if we start by setting SMART goals, it can seem much more manageable. Remember to start slow and pick a goal for your gut health that will lead you closer to optimal health status. Some nice goals to help manage your gut health with CKD could be:
Eating more foods rich in pre/probiotics every day
Taking a probiotic like Renadyl everyday
Staying hydrated and drinking more water each day
Getting more physical activity every day
Remember, you can help support your kidney and gut health by taking probiotic supplements. This way, you ensure that you get adequate amounts and strains of pre/probiotics for your kidney health. A probiotic, like Renadyl, is a good source of beneficial bacteria for your gut. Renadyl is made with three probiotic microbial strains of beneficial bacteria – S.thermophilus (KB19), L.acidophilus (KB27), and B.longum (KB31) – that have been shown to help remove uremic toxins from the body. Always be sure to check with your doctor and healthcare team first before taking any new supplements. 
Learn more about our sponsor Renadyl™ here https://bit.ly/3sZDWbb
---
About the Author
Kellsey Reed is a kidney dietitian. She helps people with CKD learn to eat the foods they love so they can improve their kidney health and live their best life with CKD. As a registered dietitian who specializes in chronic kidney disease, she has been through extensive training to give you the best support and guidance possible. In her career, she's seen the lack of support given to those with CKD and is on a mission to change that.
"I don't believe in just giving you a one-page handout that says "eat this" and "don't eat that". I don't believe in telling you to stop going out to eat! I don't believe in having you cut out all the foods you love in order to manage your CKD! I believe in giving you all of the tools, resources, and support that you need to eat for your CKD with 100% confidence! I believe in helping you learn how to travel, go out to eat at your favorite restaurants, have a date night with your spouse, and celebrate holidays and birthdays with your family without stress, anxiety, or confusion!"
If you're interested in learning more about Kellsey's coaching program or the free resources she offers, go to her website: ckdnutrition.com. You can also follow along on Instagram or TikTok at: @ckd.nutrition.coach!
---
References
*These statements have not been evaluated by the US Food and Drug Administration. This information is not intended to diagnose, treat, cure, or prevent any disease. Always consult with a qualified healthcare professional prior to beginning any diet or exercise program or taking any dietary supplement. The content on our website is for informational and educational purposes only.