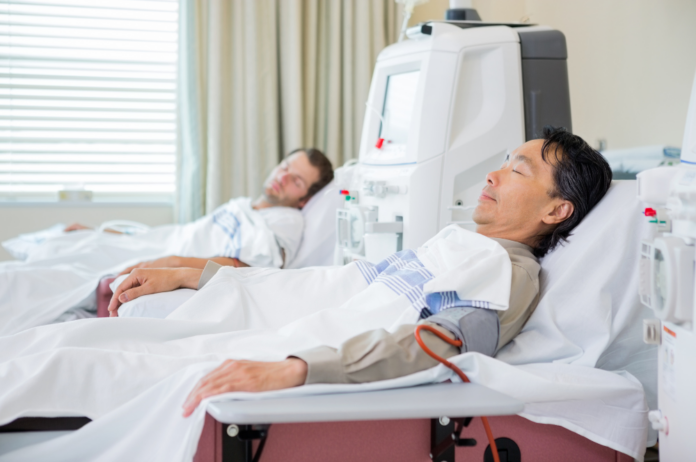 Sponsored by: Renadyl™
There are thousands of patients across the world that attend outpatient hemodialysis for kidney failure. However, many of these patients unfortunately shorten their dialysis treatment time for various reasons such as not feeling well, cramping, doctor appointment, work related, family issues and other various reasons. Hemodialysis treatments only replace a small part of the normal function of your kidneys. Research suggests it's usually less than 5% to 10% of your healthy kidney function. How often you have hemodialysis and how long each session takes is different for each patient. Over time your doctor may or may not change your treatment plan. If you recently started outpatient hemodialysis and have questions about how much time you spend having hemodialysis, talk with your kidney doctor.
If you have the right amount of hemodialysis, you should:
Feel well
Have a good appetite with a normal weight for you
Feel like you don't need dialysis even on the day you go for your next treatment
Notice your skin looks healthier and less yellow or darker
Now, if you don't get enough dialysis treatment, you may have extra fluid that stays in your body and causes swelling you'll see in your legs and hand, as well as, fluid in the lungs. This is called fluid overload. Your blood also holds on to more of your body's waste products, making it more likely that you'll feel sick. Too much of your body's waste products in your blood is called uremia. Uremia and fluid overload can cause the following problems:
Feeling week and tired all the time
Shortness of breath
High blood pressure between dialysis treatments
Low blood pressure during treatment
Inflammation of the heart
High risk for infection
Poor appetite, nausea, and weight loss
Bitter taste in mouth
Itchy skin
Your health and life depend on you getting the right amount of dialysis:
It is very important you complete your full dialysis treatment time as prescribed by your kidney doctor. It's easy to think that coming off dialysis a few minutes early or more won't matter. If you ask to come off early once, it's likely that it can happen more than once. When you shorten your dialysis treatment time it will harm your body over time because you're not getting enough dialysis. Dialysis helps to do the work your kidneys used to do to keep you alive and well. Not getting enough time on dialysis or missing a treatment may have a serious impact on your overall health. More stress is added to your body that is already compromised. This can possibly lead to a shorter life. This is why it's critical to get to your treatment on time and complete your full treatment. This is definitely for your best health and well-being. If you decide if a kidney transplant is an option for you, it's important that you follow your treatment plan. If you're already on the waiting list for a kidney transplant, you'll be in much better health when it's time for the transplant if you keep up your dialysis treatments. On the average people who get enough dialysis should be able to look forward to doing many of the things that they planned to do before they had kidney disease. If you have any questions about your treatment time or shortening your dialysis treatment speak with your healthcare provider.
Learn more about our sponsor Renadyl here https://bit.ly/3sZDWbb
---
About the author
Steven Belcher, RN, MSN, MS, is a dedicated kidney advocate who began his journey 20 years ago as a dialysis nurse. This job inspired him to help as many people with kidney disease as he could. Not only did he spend two decades caring for a patient's physical and emotional needs in a clinical setting, but he also educated the public on the risk factors of kidney disease. Some of his many philanthropic successes include being a keynote speaker at the National Association of Nephrology Technicians/ Technologists (NANT), presenting at community spaces, and launching radio shows.
He now focuses his time entirely on his organization Urban Kidney Alliance, which educates the public about kidney disease. His goal? To lower rates of Chronic Kidney Disease in urban communities in Baltimore, Maryland, across the country, and globally through education and collaboration.
Steve has also written the book "HOW TO SURVIVE OUTPATIENT HEMODIALYSIS: A GUIDE FOR PATIENTS WITH KIDNEY FAILURE." You can read the book review here.
*These statements have not been evaluated by the US Food and Drug Administration. This information is not intended to diagnose, treat, cure, or prevent any disease. Always consult with a qualified healthcare professional prior to beginning any diet or exercise program or taking any dietary supplement. The content on our website is for informational and educational purposes only.