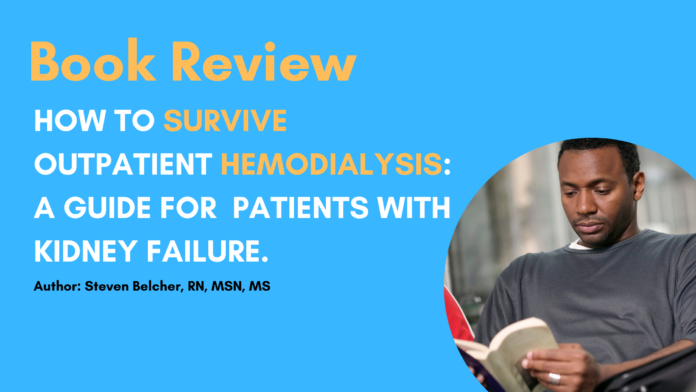 Author of How to survive outpatient hemodialysis: A guide for patients with kidney faliure, STEVE BELCHER.
REVIEWED BY: JAMES MYERS
PUBLISHED BY: WATERS PUBLISHING FROM BLUE ARTISTS, LLC
ISBN13#: 9798584036089
"I wrote this guide to help eliminate or lesson any fears experienced by patients starting outpatient dialysis treatment for the first time, and to give you the information needed to remain healthy on hemodialysis…to provide you with information and knowledge on ways to manage what's going on with your dialysis treatment…what to expect from the outpatient dialysis center as a new patient." (p. 9-10) Steve Belcher
Introduction
This Book is a one of a kind, special book. If you have ever had the experience of being a first time in-center dialysis patient, then you know that anxiety that accompanies you once you cross into the door of a dialysis lab. The confusion, the paperwork, the life and death questions by the lab director, the strange pre-dialysis procedures, the uncomfortable feeling of seeing all of the other dialysis patients and now the fear of COVID-19. Not to mention that incredible anxiety of being connected to the machine and watching your own blood float in and out of the dialysis machine during a cleansing. All too often it is a lonely feeling accompanied by the dread of how am I ever going to survive this?
The reason this book is so great is addresses all of those concerns that many times an overwhelmed staff does not have time to discuss with you. This short, concise, easy to-read book is the perfect companion for anyone, patient, caretaker, family member or friend who has questions about hemo or parenteral dialysis. This book is a must read for the newbie to dialysis.
Chronic Kidney Failure
The first thing this book discusses is about how we ended up on dialysis in the first place; as a result of kidney failure. Patient choice plays a primary role in this book. Pre-emptive transplant, hemodialysis or parenteral dialysis are all topics that were extensively discussed in the interview. If you are a patient who has questions about your options, the book very clearly lays those choices out for you.
Introduction to Hemodialysis
There is a complete discussion of what hemodialysis is and how it works in the book. How you do it and how long it takes & how often you do it are all discussed here.
What the dialysis machine does, the path the cleansing takes and it's purpose are made clear for us.
Just as important is the disclosure of who is on your renal team and what you can expect each member of that team to do.
Medical complications that occur during hemodialysis are openly and clearly discussed. Things like problems and solutions for issues with your vascular access, muscle cramps, hypotension, fevers, chills, skin are hair problems are written about in clear terms.
The concept of adequate dialysis is made very clear and how do we know when we are getting enough dialysis is the key topic here. Scientific measurements like URR and kt/v (kt over v) are very important concepts, known only to most staff members as opposed to most patients.
Preventing infections plays a central role in the care of dialysis patients and the steps taken to avoid infections are carefully outlined.
The First Day of Dialysis
My favorite chapter in the book is what precisely will happen to the patient on the first day of dialysis. This is a very well written, detailed step-by-step guide of what you can expect on your very first day of renal replacement therapy.
From the type of clothing you should wear to the exact first to last step procedure is described in this book. Taking your weight, washing your vascular access, taking you to your chair, taking your vitals, all the things you can expect to happen with the treatment itself is described here.
Of particular importance is the difference between the procedures taken between a session with a fistula, graft or heart catheter are. Steve does a brilliant job of making those differences crystal clear. The book also tells us the type of issues we should let our dialysis nurse know about before, during and after treatment.
There is a vivid description of what happens when your treatment ends. Most importantly here there is a candid discussion of what you must do if there is bleeding after your treatment, even if you have left the dialysis lab. This could save your life!
The Rights and Responsibilities of the Dialysis Patient
Did you know that as a dialysis patient, you have certain rights in your dialysis lab that protects you from mistreatment and environmental hazards? Privacy of your medical records and information? Meeting your entire renal team to help plan you treatment? Meet with your dietitian, and social worker? Choose your treatment options? Expenses you pay & Medicare pays? Available financial help? Your right to refuse or accept treatment? Center's individual rules? Can I be part of research studies? One of the issues Steve emphasized in the past is dialyzer reuse, and your right to know if the lab engages in that practice.
The book makes very clear you have responsibilities, too like treating other patients and staff respectfully, paying bills on time, making clear I am refusing treatment, that I don't understand my medical condition or treatment plan or have issues with transportation?
Patient Grievance Procedures
If you want to find a topic that most authors run from, filing a grievance against your dialysis lab. Not Mr. Belcher. There is an entire chapter dedicated to educating the kidney patient about their rights in filing a grievance with their ESRD Networks. The book details how this is done, timeframes that may apply, and how your regional network. This chapter is great reading.
Treatment Options for Kidney Failure
The book does an excellent job of discussing the ins and outs of both hemodialysis and peritoneal dialysis, disclosing the advantages and disadvantages of each. This also includes a breakdown of the types of PD.
Particularly important is Steve's discussion concerning whether or not dialysis is a cure for kidney disease. Straightforward disclosure tells us it is not, but it is a life sustaining form of renal replacement therapy.
The book also makes very clear you can refuse or withdraw from dialysis treatments at anytime. The continuing theme of patients' choice is evident throughout the book!
Kidney Transplants
This book even discusses Kidney Transplant as a treatment option for patients. From the initial intake to transplant evaluation, to being placed on the waiting list, to taking steps to prepare for transplant, to transplant surgery, the hospital stay and follow-up care, all the major aspects of kidney transplants are discussed here. Even post-transplant care and possible transplant complications are fully discussed. The book does a great job of spelling out the pros and cons of getting a kidney transplant. This is a great chapter to help you decide if kidney transplantation is right for you.
Care of Your Access
When you are on kidney dialysis, your access is your lifeline. It is the way you connect your body to the dialysis machine, so your blood can be cleared of impurities, much like your natural kidneys were intended to do. Without your access, you are nor getting a cleaning, and without a good cleaning you could become very sick or even die.
The book goes into great detail, taking about each type of access, the advantages and disadvantages of each, problems to avoid like infection, blockage & injury. There is a terrific section on the Do's and Don'ts of access care in this book, that is must reading for the dialysis patient or caretaker.
Making Wise Food Choices on Dialysis
This is one of the most informative chapters in the whole book: What are the smartest food choices you can make as a dialysis patient. Dialysis diet is discussed in simple, detailed terms with concrete examples. Common kidney dialysis diet issues like protein, potassium, phosphorus, & triglycerides are all discussed here.
Also issues that are particularly unique to dialysis are in the book, clearly written by an experienced insider, like fluid intake, fluid control, and great tips for helping the patient achieve better fluid control. This is a constant struggle for most dialysis patients, but Steve makes it very simple with wonderful examples to follow.
Unique Information and Advice for the Dialysis Patient
The book and it's author was not satisfied to give cursory advice. Steve wanted you to have all the information needed at your fingertips.
The book includes a discussion about special dialysis medicines you may be asked to take like phosphate binders, vitamins and supplements, laxatives, antibiotics, blood pressure medications to avoid the results of high blood pressure.
There is also a section on unique dialysis issues like anemia, iron deficiency and vitamin B group deficiency.
One section in this book that is frequently overlooked is the affect dialysis may have on sex and intimacy. Possible causes and solutions are discussed here.
Facts about the flu vaccine and who should take it are likewise disclosed in some detail here. Vaccine safety is the highlight of this section of the book.
The connection and importance of dental work are also disclosed as well as issues with renal bone disease. There is a lot of detail on the things we can do to keep our bones healthy.
There is an entire chapter in the book dedicated to things we can do to stay healthy.
Coronavirus and Kidney Disease
The final chapter in this book is about the Coronavirus and the impact it has had on Kidney Patients, and specifically on dialysis patients. This is must-read material! The chapter discusses in some detail the ways in which you can protect yourself at your dialysis facilities and at home. This includes preparation for those on dialysis, going out in public, prevention and treatment and much more.
Conclusion
This is a magnificent primer for any person affected by kidney dialysis, especially patients, caretakers, family and friends of a dialysis patient. Written by Steve Belcher, he is clearly someone who has 'been there.' It is obvious the know-how and experience that went into this book. It's greatest strength is that it is written in simple, direct understandable terms, making it very easy to read. The book is brutally honest and pulls no punches, but maintaining it's optimistic stance.
The feeling you get when you read the book is that you can overcome any dialysis related obstacle and ask the right questions of the people who are helping you.
I have never seen or dealt with any instructional dialysis book for kidney patients quite like this book. For it's simplicity, it's breath and scope are unmatched. From his dedication to teaching us through his Urban Kidney Alliance and the Urban Health Outreach Media Network, Steve has shown us that he is tireless in his dedication to raising awareness of kidney disease and educating kidney patients in all aspects of the disease. This book is more evidence of that. I heartily recommend this book. It is a special book written by a special Kidney Advocate.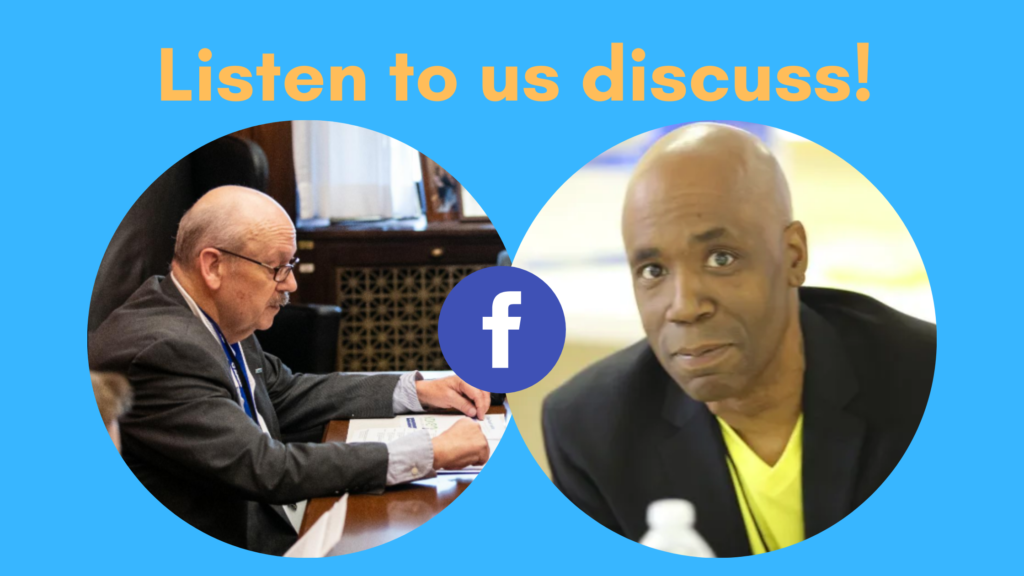 Purchase Steve's Book "HOW TO SURVIVE OUTPATIENT HEMODIALYSIS: A GUIDE FOR PATIENTS WITH KIDNEY FAILURE."


From Reviewer James Myers
To learn more about James follow this link