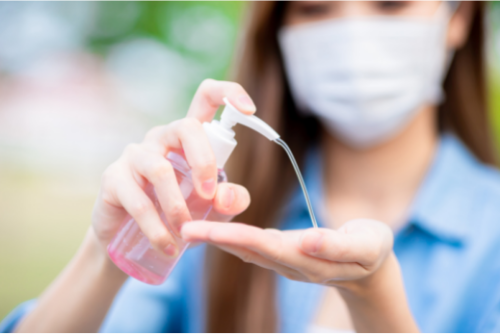 *These statements have not been evaluated by the US Food and Drug Administration. This information is not intended to diagnose, treat, cure, or prevent any disease. Always consult with a qualified healthcare professional prior to beginning any diet or exercise program or taking any dietary supplement. The content on our website is for informational and educational purposes only.
Written By: Steve L. Belcher, RN, MSN, MS, DN-CM
What do hand gels contain?
Most hand gels contain isopropyl alcohol plus a thickening agent and a moisturizer such as glycerin. While handwashing rinses dirt and bacteria from the hands, a hand gets attaches to the microorganisms on the hand and then either kills or inactivates the organism.
Bacteria, including antibiotic resistant bacteria (MESA, VRE) are killed by the gel in the sanitizer. In addition, Fungi are also killed.

Viruses, including those causing the common cold, the flu, herpes, and HIV, become inactivated by the alcohol.
Check the percentage of alcohol
According to the Center for Disease Control and Prevention (CDC) recommends that hand gel contains 60 to 95% alcohol. When buying hand gel for your home or car, check the label to verify the concentration meets this minimal standard.
When applying the gel:
Place the product in the palm of one of your hands

Rub your hands together

Rub the product over all surfaces of your hand and fingers until hands are dry.
Studies have shown that alcohol gels containing 70% alcohol kill 99.9% of the bacteria on hands 30 seconds after applying the gel and 99.99% after 1 minute.
When should hand gels NOT be used?
While using a hand gel can disinfect the hands, it cannot clean the hands of organic material. Soap and water are needed when hands are soiled-soap to help break down the natural skin oils that germs can stick to, and water to rinse the germs from the hand.
Several key things to remember
When hands are not visibly dirty, consider alcohol hand sanitizers as an acceptable alternative to soap and water for hand hygiene.

The single most important thing we can do to keep from getting sick and spreading illness to others is to clean our hands.

If soap and water aren't available, use alcohol-based hand gel
About the author
Steven Belcher, RN, MSN, MS, is a dedicated kidney advocate who began his journey 20 years ago as a dialysis nurse. This job inspired him to help as many people with kidney disease as he could. Not only did he spent two decades caring for a patient's physical and emotional needs in a clinical setting, but he also educated the public on the risk factors of kidney disease. Some of his many philanthropic successes include being a keynote speaker at the National Association of Nephrology Technicians/ Technologists (NANT), presenting at community spaces, and launching radio shows.
He now focuses his time entirely on his organization Urban Kidney Alliance, which educates the public about kidney disease. His goal? To lower rates of Chronic Kidney Disease in urban communities in Baltimore, Maryland, across the country, and globally through education and collaboration.
Steve has also written the book "HOW TO SURVIVE OUTPATIENT HEMODIALYSIS: A GUIDE FOR PATIENTS WITH KIDNEY FAILURE." You can read the book review here.
Sponsored By: Kibow® Biotech