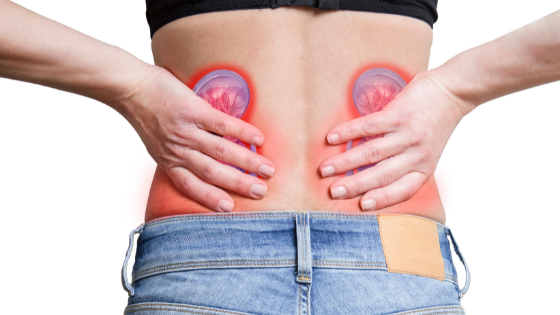 *These statements have not been evaluated by the US Food and Drug Administration. This information is not intended to diagnose, treat, cure, or prevent any disease. Always consult with a qualified healthcare professional prior to beginning any diet or exercise program or taking any dietary supplement. The content on our website is for informational and educational purposes only.
Written By: Steve L. Belcher, RN, MSN, MS, DN-CM
Since the COVID-19 pandemic, there has been a high acute injury rate leading to long-term chronic kidney disease. In fact, research suggests that up to half of people hospitalized with COVID-19 get an acute kidney injury. That's a sudden case of kidney damage, and in some severe cases, kidney failure happens within hours or days. People with acute injury (AKI) should focus on their kidney health with their care team's help. This will allow for the best chance of recovery. However, many people do not recover, so it's also essential to be prepared for the possibility of kidney failure (ESRD).
What is ERSD?
End-stage renal disease (ESRD) happens when the kidneys stop working completely. At this point, either a kidney transplant or dialysis treatment is needed to stay alive. Many people with AKI end up with ESRD and need to remain on dialysis treatment or get a transplant.
Preparing for long-term treatment:
People who continue treatment can live very full lives. Many people start treatment in a dialysis center. But there may be other options that fit your life better. The key is to choose the proper treatment for your life and your situation.
Treatment Options:
You have choices to make about your treatment. Hemodialysis is just one of many different choices you can make. You may even be able to do dialysis at home or receive a kidney transplant. Think about these factors when learning about options:
1. Where would you prefer to have treatment: Medical Setting or Home?
2. When would you like to have treatment: Daytime or Nighttime?
3. How comfortable are you to do your own treatment: Independent or Care Team?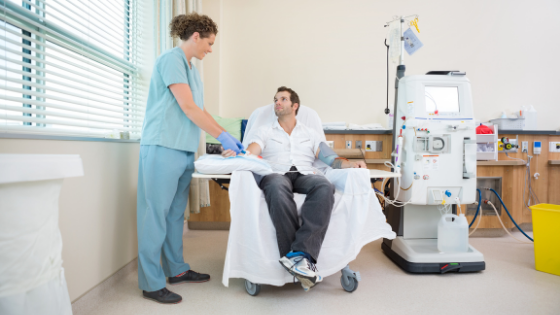 ***A Note about Hemodialysis Catheters***
No matter what treatment option you choose, replacing your hemodialysis catheter with permanent access is critical for staying safe and healthy.
Preparing for life with dialysis treatment:
While you adjust to life on treatment, you'll need to keep other parts of your life in order. If you are working, there are steps you can take to keep your job and finance secure:
Taking time off through FMLA, Sick time, or vacation

Consider Short-term disability

Employee Rights through ADA
If you're about to start long-term dialysis treatment and have questions about your employment situation or treatment options talk with your healthcare provider to figure out the best next steps.
About the author
Steven Belcher, RN, MSN, MS, is a dedicated kidney advocate who began his journey 20 years ago as a dialysis nurse. This job inspired him to help as many people with kidney disease as he could. Not only did he spent two decades caring for a patient's physical and emotional needs in a clinical setting, but he also educated the public on the risk factors of kidney disease. Some of his many philanthropic successes include being a keynote speaker at the National Association of Nephrology Technicians/ Technologists (NANT), presenting at community spaces, and launching radio shows.
He now focuses his time entirely on his organization Urban Kidney Alliance, which educates the public about kidney disease. His goal? To lower rates of Chronic Kidney Disease in urban communities in Baltimore, Maryland, across the country, and globally through education and collaboration.
Steve has also written the book "HOW TO SURVIVE OUTPATIENT HEMODIALYSIS: A GUIDE FOR PATIENTS WITH KIDNEY FAILURE." You can read the book review here.