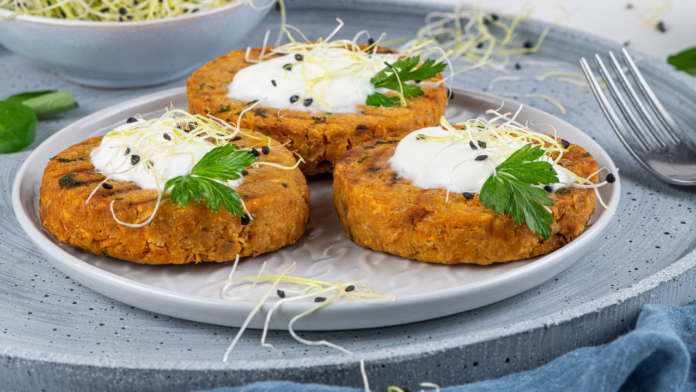 Kellsey Reed RDN, LDN
Sponsored by: Renadyl™
Overall, veggie burgers can be a great plant-based option in your kidney-friendly diet. Studies show that a more plant-based diet can lead to better health outcomes in those with chronic kidney disease. Plant-based protein has been shown to be more beneficial for kidney health compared to animal-based protein. All of these reasons show us that veggie burgers are a great option for those with CKD!
Potassium
Remember, not everyone with CKD needs a potassium restriction. If you need a potassium restriction, it's important to keep in mind what ingredients are going into your veggie burgers. Try being mindful of the portion size of your higher-potassium veggies and beans like black beans, lentils, carrots, and spinach. Or, try choosing lower-potassium veggies and beans like chickpeas, onions, celery, cauliflower, or broccoli.
Sodium
To help you stick to a lower sodium diet with CKD, try using low-sodium or no salt added seasonings in your veggie burgers. It can also be helpful to be mindful of condiments such as ketchup, mustard, relish, pickles, and mayo. The sodium in these items can add up quickly! Try using some of these lower sodium seasoning and condiment options instead:
Black pepper
Garlic powder
Red pepper flakes
Nutritional yeast
Onion powder
Cumin
Basil
Dill
Cilantro
Scallions
No added salt mustard like this one
Low-sodium homemade pickles like these
No salt added ketchup like this one
Protein
A lower protein, more plant-based diet is generally recommended for those with CKD. This is why veggie burgers can be such a great addition to your diet! Veggie and bean burgers are often plant-based and lower in protein than most beef, chicken, or turkey burgers. Try choosing beans and legumes like chickpeas, edamame, lentils, black beans, great northern beans, and vegetables instead of animal proteins for a plant-based burger alternative.
Phosphorus
Contrary to popular belief, the phosphorus content in plant-based foods, like veggie burgers, is not high. If you are trying to be mindful of your phosphorus intake with CKD, it's important to know that plant-based phosphorus is not well absorbed in the body. This means that plant-based foods are not likely high in phosphorus. Phosphate additives, common food additives, are highly absorbed in the body and, therefore, should be avoided. When looking for store-bought veggie burgers, aim for veggie burgers that contain zero phosphate additives. To spot phosphate additives on the nutrition facts label, check the ingredients list. Anything that has "PHOS" in it is a phosphate additive.
Veggie burger combinations
Black bean + sweet potato + caramelized onions
Chickpea + spinach + roasted red peppers
Quinoa + white beans + arugula
Cauliflower + broccoli + chickpeas
Pinto beans + red peppers + onions
A renal dietitian's go-to gut & kidney friendly veggie burger recipe
Ingredients:
2 cups no salt added canned garbanzo beans or chickpeas
1 tbsp Dash seasoning chicken grilling blends flavor
1 teaspoon Ground Black Pepper
1 teaspoon Garlic Powder
1 bunch Fresh Dill minced
2 tablespoons Water
1 bunch Green Onions (Scallions)
2 tablespoons Olive Oil
4 buns Whole Grain Burger Buns
4 cloves Garlic minced
1 cup sliced cucumber
1⁄4 cup Rolled Oats
1 Roma Tomato sliced
4 cups Arugula chopped
Directions:
First, wash, rinse, and cut veggies and herbs.
Next, add washed/rinsed chickpeas to a medium bowl and smash with a fork until they resemble a canned tuna-like consistency. I would recommend using no salt added canned chickpeas/garbanzo beans to make it easy and low sodium!
Then, add dill, scallions, garlic, arugula, oats, spices, and 1 tbsp of olive oil. Mix until well combined. Add 1-2 tbsp of water to better mix ingredients.
Next, heat a nonstick pan to medium heat with the remaining oil. Form the chickpea mixture into 4 burger-like patties and place onto the warmed pan. Cook each side of burgers for about 5-7 minutes or until slightly browned.
Serve on a bun with sliced cucumbers and tomatoes. Enjoy!
Nutrition:
415 calories
15 gm protein
335 mg sodium
615 mg potassium
11 gm fiber
What makes this recipe both kidney-friendly and gut-friendly?
This recipe is both plant-based and lower in sodium
This recipe contains tons of fiber
This recipe contains plant-based protein as opposed to animal-based protein
This recipe contains oats and onions, which are sources of prebiotics
---
About the Author
Kellsey Reed is a kidney dietitian. She helps people with CKD learn to eat the foods they love so they can improve their kidney health and live their best life with CKD. As a registered dietitian who specializes in chronic kidney disease, she has been through extensive training to give you the best support and guidance possible. In her career, she's seen the lack of support given to those with CKD and is on a mission to change that.
"I don't believe in just giving you a one-page handout that says "eat this" and "don't eat that". I don't believe in telling you to stop going out to eat! I don't believe in having you cut out all the foods you love in order to manage your CKD! I believe in giving you all of the tools, resources, and support that you need to eat for your CKD with 100% confidence! I believe in helping you learn how to travel, go out to eat at your favorite restaurants, have a date night with your spouse, and celebrate holidays and birthdays with your family without stress, anxiety, or confusion!"
If you're interested in learning more about Kellsey's coaching program or the free resources she offers, go to her website: ckdnutrition.com. You can also follow along on Instagram or TikTok at: @ckd.nutrition.coach!