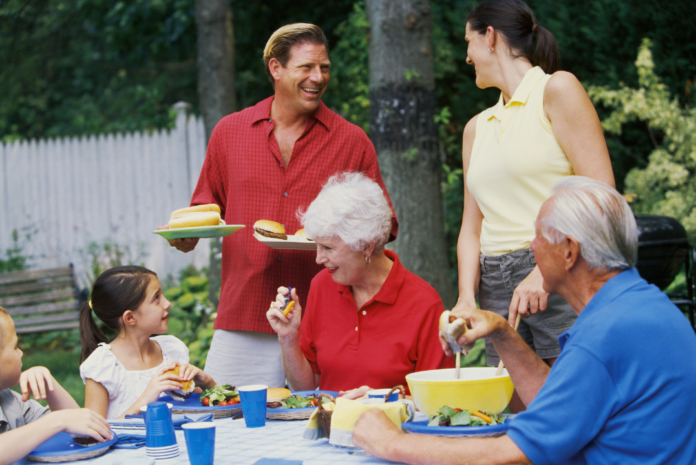 Sponsored by: Renadyl™
Kellsey Reed RDN, LDN
It's grilling season! The sun is shining, the grill smells great, and you're having fun with your family outside. Your loved ones are cooking on the grill, and you're enjoying the beautiful weather! How nice does that sound?
There are so many options out there when you're at a cookout. The typical foods you may find at a cookout are often very high in sodium and protein, which can put a strain on the kidneys. When it comes to navigating a cookout with CKD, aim for lower protein and lower sodium options to help keep your kidneys happy and healthy.
Things to be mindful of: 
Chicken, burgers, hot dogs, and ribs are all high-protein food options. If you have CKD, it can be more helpful to focus on plant-based sources of protein and follow a low to moderate-protein diet. This helps to take some of the stress and strain on your kidneys overall. A low-sodium diet has also been shown to help with blood pressure management too!
Instead of grilling those high protein options, try grilling these options instead:
Veggie burgers
Bean burgers
Tofu
Tempeh
Fruits like pineapple, apples, peaches, and watermelon
Veggies like potatoes, onions, peppers, eggplant, zucchini, and squash
Be mindful when buying frozen or packaged plant-based burgers. They can still have high amounts of protein and sodium in them. It can be helpful to make your own or buy frozen burgers where the main ingredients are beans and vegetables.
If you are on a potassium restriction for your CKD, try using lower-potassium fruits and veggies for your cookout meal. Instead of spinach, potatoes, mango, or cantaloupe, try arugula or kale, onions, peppers, or watermelon. Remember, not everyone needs a potassium restriction when they have CKD. Be sure to check with your healthcare team and dietitian before making any changes to your diet.
A renal dietitian's favorite foods to bring to a cookout
Veggie burgers

These are typically lower in protein and sodium than most traditional burgers.
Try Dr. Praeger's, Hilary's, or Franklin Farms for an easy veggie burger option, or try making your own from scratch!

Whole grain burger buns

Whole grain products are recommended for those with CKD as they typically have more fiber, vitamins, and minerals compared to white/refined products.
Try Dave's Killer Bread buns and 365 brand whole wheat buns for an easy bun option.

Fruit and/or veggie tray

Getting enough fruits and veggies in your diet is important when you have CKD. If you are going to a cookout or party, you may want to bring your own! This ensures that you have some fruit and veggie options when you are there.
Try pairing your fruit with a yogurt dip or your veggies with a hummus or salsa dip for more flavor.

Kidney friendly beverages

If you are headed to a cookout or party this Summer, be sure to bring your fave kidney-friendly beverages as a nice alternative to an alcoholic beverage. One of the kidneys' jobs is to filter out harmful substances, toxins, and waste products. Alcohol is something that the kidneys will need to filter out and, therefore, can impact the function of the kidneys. Alcohol can also increase blood pressure which can affect kidney function too.
Try sparkling flavored water like Spindrift, La Croix, or Waterloo or an unsweetened iced tea like pure leaf tea. These options contain no alcohol and are lower in sugar too.

Lower sodium condiments

Look for low-sodium or no salt added ketchup, mustard, mayo, and BBQ sauce. They can sometimes be hard to find, but they are out there!
Try Chef Hak's, Primal Kitchen, or Yo Mama's brand BBQ sauces are typically lower in sodium and lower in added sugars.
You can also try making your own BBQ sauce too! I love this recipe from The Kidney Dietitian: https://www.thekidneydietitian.org/low-sodium-bbq-sauce/
The Bottom Line
Yes, you can still enjoy a cookout when you have CKD, but it can be helpful to keep a few things in mind. Instead of grilling burgers or hot dogs, try a more plant-based option like a veggie or bean burger. Don't forget the fruits, veggies, and low-sodium condiments too! 
---
About the Author
Kellsey Reed is a kidney dietitian. She helps people with CKD learn to eat the foods they love so they can improve their kidney health and live their best life with CKD. As a registered dietitian who specializes in chronic kidney disease, she has been through extensive training to give you the best support and guidance possible. In her career, she's seen the lack of support given to those with CKD and is on a mission to change that.
"I don't believe in just giving you a one-page handout that says "eat this" and "don't eat that". I don't believe in telling you to stop going out to eat! I don't believe in having you cut out all the foods you love in order to manage your CKD! I believe in giving you all of the tools, resources, and support that you need to eat for your CKD with 100% confidence! I believe in helping you learn how to travel, go out to eat at your favorite restaurants, have a date night with your spouse, and celebrate holidays and birthdays with your family without stress, anxiety, or confusion!"
If you're interested in learning more about Kellsey's coaching program or the free resources she offers, go to her website: ckdnutrition.com. You can also follow along on Instagram or TikTok at: @ckd.nutrition.coach!