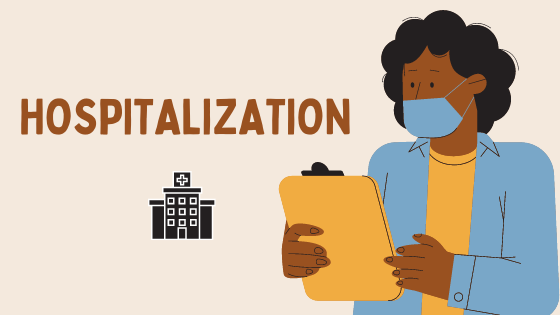 *These statements have not been evaluated by the US Food and Drug Administration. This information is not intended to diagnose, treat, cure, or prevent any disease. Always consult with a qualified healthcare professional prior to beginning any diet or exercise program or taking any dietary supplement. The content on our website is for informational and educational purposes only.
Written By: Steve L. Belcher, RN, MSN, MS, DN-CM
Sponsored by: Renadyl™
Patients who undergo maintenance kidney dialysis may one day need medical treatment in the future. In fact, you may even need to visit the hospital. Below is some helpful information to help you feel prepared if you should have to be hospitalized in the future.
Preparation you can do now:
List of Doctors: Carry a list of your doctors in your wallet. The hospital can use this list to alert your doctors and collect your medical history quickly. Remember to keep the list updated if your doctors change.
List of Medications: Carry a list of medications and their doses in your wallet too. The list will help the hospital give you treatment that doesn't conflict with any of your medications.
Emergency Hospital Bag: Pack a bag with a couple of days' worth of comfortable clothes and toiletries. Having your own clothes at the hospital can make your stay more comfortable.
Going to the hospital:
If you don't feel well and have a question, you can always call your dialysis clinic or doctor. They can help you understand how serious a problem is.

If you need emergency/hospital care call 911 or have someone drive you to the hospital. Don't forget your doctor and medication lists, as well as your emergency bag.
While at the hospital:
Tell the hospital that you're a dialysis patient. If you're too sick to tell them yourself, have a family member tell them.

Show the hospital your doctor and medication list, if you have them.

Call your dialysis center to let them know you are in the hospital. This way, they wont worry where you are.

Try to remember any tests and procedures they do at the hospital.

Remember to take your discharge instructions from the hospital when leaving. Bring them with you next time you come to the dialysis clinic.

If you have a fistula or graft in your arm or leg, let the hospital nurses and techs know not to check blood pressure or draw blood from that arm. Never let a hospital draw blood from your fistula or graft unless it is an emergency.
There may be other options:
Some medical issues are emergencies, others are routine. What do you do for the in-between's issues like fever (without rash), sore throat, small cuts, ear pain, and more? Occasionally, people go to the emergency room for the in-between problems. There are other options that might be faster, better, or less expensive. Some other options might include:
Urgent Care Centers: Check the internet for centers in your area. Many urgent care centers will list what issues they treat on their websites.

Your Primary Care doctor's office.

Your nephrologist's office.
About the author
Steven Belcher, RN, MSN, MS, is a dedicated kidney advocate who began his journey 20 years ago as a dialysis nurse. This job inspired him to help as many people with kidney disease as he could. Not only did he spent two decades caring for a patient's physical and emotional needs in a clinical setting, but he also educated the public on the risk factors of kidney disease. Some of his many philanthropic successes include being a keynote speaker at the National Association of Nephrology Technicians/ Technologists (NANT), presenting at community spaces, and launching radio shows.
He now focuses his time entirely on his organization Urban Kidney Alliance, which educates the public about kidney disease. His goal? To lower rates of Chronic Kidney Disease in urban communities in Baltimore, Maryland, across the country, and globally through education and collaboration.
Steve has also written the book "HOW TO SURVIVE OUTPATIENT HEMODIALYSIS: A GUIDE FOR PATIENTS WITH KIDNEY FAILURE." You can read the book review here.
Learn more about our sponsor Renadyl™ here https://renadyl.com